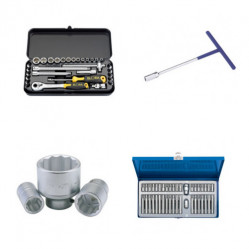 As every professional mechanic and DIY user will testify, reliable, high quality sockets and accessories are essential for a whole host of automotive tasks, and at Draper Tools we've developed a highly engineered range specifically designed for professional use. Included within these ranges are sockets, socket sets and accessories with three distinctive finishes Satin, Micro Satin, and Fully Polished. All our sockets have a knurled band providing extra handgrip. Our socket sets also have the same high quality finishes and come in 1/4", 3/8", 1/2", 3/4", and 1" sizes.

As specialist socketry providers, we also supply a comprehensive collection of impact socketry for use with impact wrenches and air compressors, ideal for automotive use, just the ticket when extra torque is required. We also supply a vast range of specialist automotive socketry which includes AdBlue® Filter Sockets, Diesel Injector Sockets, Drive Shaft Sockets, Fuel Filter Sockets , Hub Nut Sockets, Oxygen Sensor Sockets, Spark Plug Sockets and Wheel Nut Sockets.

The Draper Expert Multi-Drive® socket sets have specially designed 12 point multi-drive sockets, which can be used on hexagon, Draper TX-STAR® and Spline fixings, making them ideal for maintenance teams who need a multi-purpose socket set.

With the options of both metal cases and sturdy plastic storage cases we're sure there is something for everyone in our socket set range. But that's not all, not only do we have a comprehensive range of sockets and socket sets, we also have a complete range of accessories too. Consisting of 'T' Handle Socket Wrenches, Universal Joints,Extension Bars, Sliding T Bars and Flexible Handles.

So whether you're tinkering under the hood of a classic car or undertaking day-to-day automotive maintenance our range of market leading socketry fulfils the needs of even the most demanding of mechanics.